About the Program
Every year, we bring in a handful of analysts to work alongside our Associates, Vice Presidents, and Partners to develop their skills in investment. We provide a unique opportunity for analysts to have first hand experience in investing from sourcing to close and serve as a critical part of our team and the firms success.
The Opportunity
You will be joining a small, tight-knit team as we collectively identify, invest in, and build next-generation enterprise businesses. Your primary focus will be to help identify investment opportunities using our internal systems and processes. You will have exposure to all aspects of our day-to-day, from how we source investment opportunities to how we partner with entrepreneurs. We believe this to be a great opportunity for those interested in investing long-term.
DAY AS AN ANALYST AT BLUEPRINT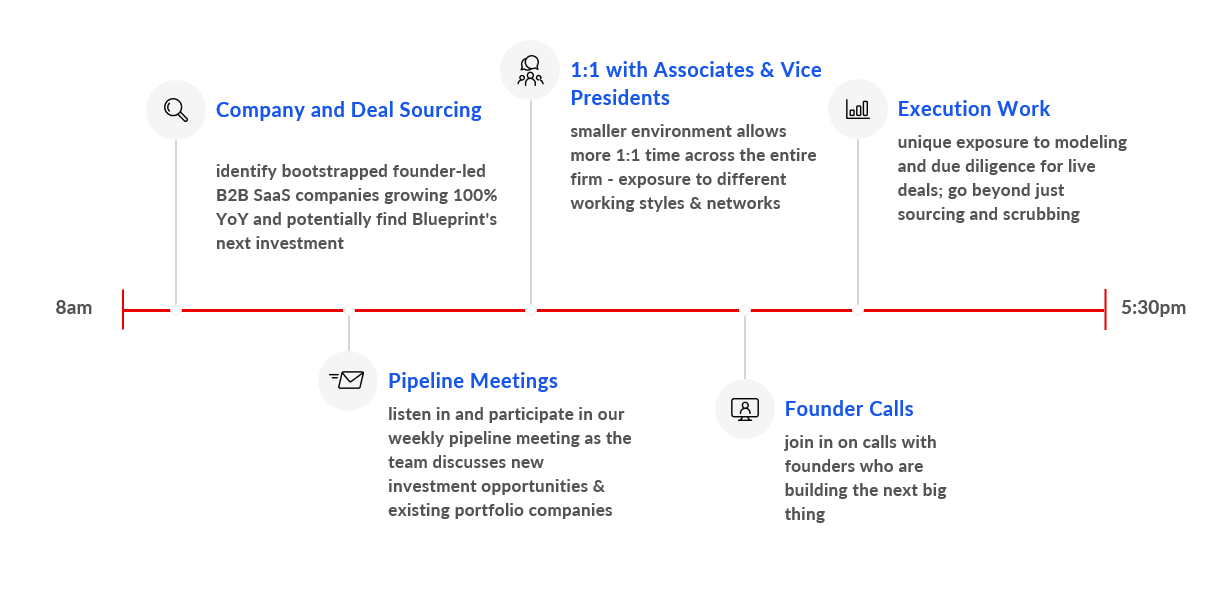 Responsibilities include:

Uncover investment opportunities via internal software systems and processes
Cleanse database to maintain data integrity
Read / review digital media / print publications
Vet investment opportunities, work closely with business development team
Willingness to call and / or visit hundreds of companies annually
Attend industry conferences and events
Characteristics we value:

High accuracy / attention to detail
Be a sponge / incredible eagerness to learn
Strong interest in technology / finance
Self-starter / autonomous
Grit / grinder mentality
What we're looking for:
Strong interest and / or prior experience in technology / investing
High degree of focus and autonomy / strong attention to detail a must
Eagerness and willingness to learn
Why it's a great position:
We think it's a fantastic way to dip your toe into the investing world. We have a small team and you will have exposure to everyone. While your focus will be working within our internal systems to uncover investment opportunities, you will have the opportunity to learn all aspects about our jobs. Not to mention, you will be able to meet hundreds of entrepreneurs and build a fantastic rolodex for yourself.

How to apply:

Please tell us a story about you that gives us a sense of who you are
Please tell us why you're interested in Blueprint
Please send us your resume and include a link to your LinkedIn profile
Please PDF everything above and send to contact@onblueprint.com with "Prospective Data Analyst" in the subject line.
We hire Analysts on a rolling basis, typically quarterly / semi-annually throughout the year. Candidates who are invited to the next round will be contacted by one of our team members.

Alumni Highlights